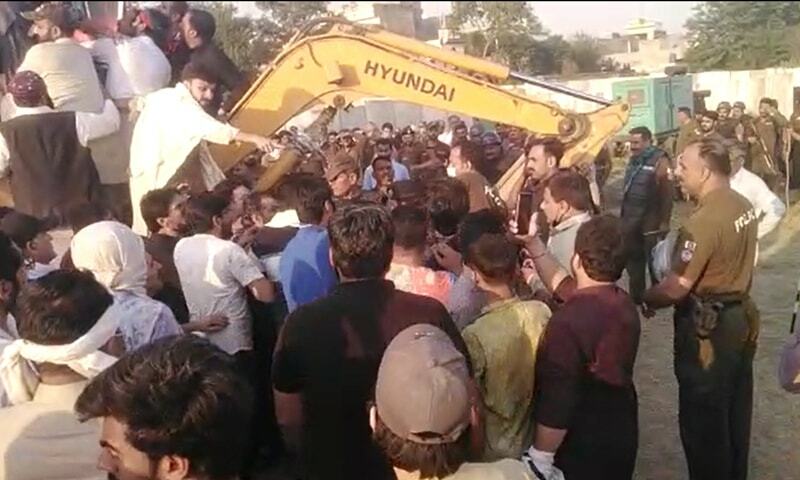 Authorities bar PTI members from organizing a rally at Sialkot CTI Stadium on Saturday morning, and ParhloNewsTV to report that lawmakers have resorted to measures such as tear gas and the imposition of a stick to disperse party activists who opposed the move.
The convention was scheduled for later in the day.
Television footage showed police at the convention site, as people stood on a stand in what appeared to be an attempt to prevent the police from demolishing buildings that had been erected in preparation for the convention. The tear gas canisters could also be seen in the picture.
Sialkot DPO Hasan Iqbal, who was present at the scene, told reporters that the local Christian community was opposed to holding a rally on land, claiming it was their property.
"As you know we are now in the Christian world. [petition] in the high court, requesting that no political rally be held for any reason, "Iqbal said, adding that the high court then ordered the deputy commissioner of Sialkot to hear both parties and decide the case.
The DPO said "the leaders of the political party and the representatives of the Christian community came yesterday and those who have previously acknowledged that the land belongs to the Christian community".
He further added that "political leaders" had asked for permission to hold the rally, but the protesters refused.
He also assisted the commissioner with other ways to conduct the meeting. "We have made it clear that we are not opposed to any political activity. Holding a rally is a legal and constitutional right. But forcing a rally on a small community property without proper procedure would not be appropriate," said DPO Iqbal. .
"Then we came and told them we could help you with another place. What happened next is for you to see."
"It is not our order to arrest people or stop a rally," he said. "Our mandate is to carry out the orders of the deputy commissioner, which have been enacted in accordance with the law, following the order of the high court.
In a question about containers being set up to block roads, the DPO said a "political party" had requested parking. "We have not closed the roads," he said.
During this time, there were also reports of arrest of PTI members but no immediate legal confirmation.
When asked about this matter, the DPO did not give a definite answer saying that information about this would be provided in an official translation.
He added that "the police have done nothing on earth and it is the vendors who are cleaning it".
But PTI claimed in a tweet that several members of the group, including leader Usman Dar, had been detained.
In a video report, Dar said he was talking in a "prison van" after his arrest on earth.
"They believe that our love … because the manager can be caught by putting us in a prison van or prison. Listen: throw us in jail, we will go out and continue the liberation movement, we will hold the rally again. This storm will not stop. This interest will not stop," he said. "I stand with Imran Khan".
Dar added: "We will be imprisoned but remain loyal to our leader Imran Khan. And listen carefully, we will get out of prisons and hold a rally in Sialkot. Our leader will return to Sialkot. And under the leadership of Imran Khan, we will bury this imported government, these American dolls forever, said Dar.
---
This is a growing story that is being revised as circumstances change. Initial reports in the media may sometimes be inaccurate. We will strive to ensure the availability of time and accuracy by relying on reliable sources such as stakeholders, certified authorities and our staff journalists.