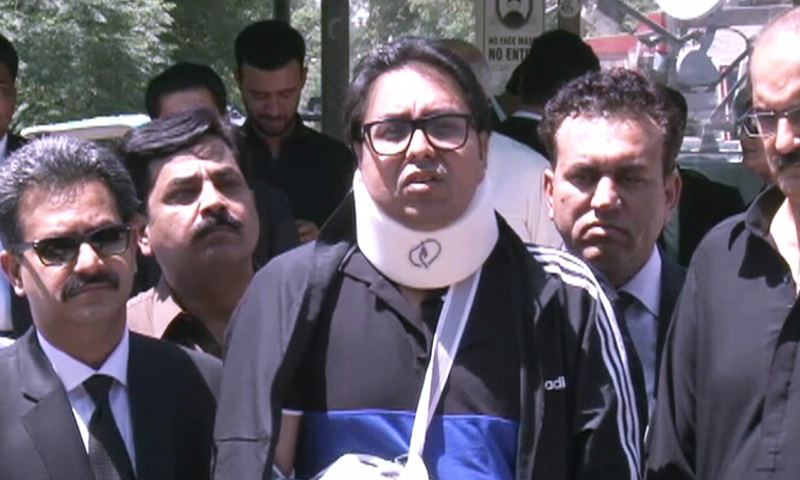 Pakistan Tehreek-Insaf (PTI) leader Shahbaz Gill accused Friday that PML-N leaders, including Prime Minister Shehbaz Sharif and Interior Minister Rana Sanaullah "should be involved" in a car accident – which they said was an attempt to try to save his life. – on the M-2 Motorway where he was injured the previous day.
"Shehbaz Sharif sahaband Rana Sanaullah and other friends, should be involved in the accident, "Gill told reporters outside the Islamabad Supreme Court as he described the circumstances of the incident.
Gill, wearing a neck brace and a sling, added that he had given his lawyers the names of seven people who "wanted to kill me" and who should be held responsible if any damage was done to him or former prime minister Imran Khan. .
He said they have the same intentions for Imran Khan. "As the manager of his staff, I fear his attacks [as well]"he added.
Gill declined to announce the names to reporters yet, however, saying he would share the names with "a few independent news outlets" in Pakistan.
The PTI leader said the seven people even threatened him with a phone call and gave them their phone numbers to his lawyers.
Gill explained that he did not name the names as it would give the impression of "taking political notes". He continued: "And I do not have to name them. Everyone knows. Do you not see Mayram Safdar's statement in which he said 'they should be crushed'? Do you not see the statements of Rana Sanaullah?
I will not appeal to political parties in this matter and I will leave the rest to you, "Gill told reporters.
On Thursday, Gill, along with three other people, were injured when a speeding vehicle hit his car near the Khanqah Dogran interchange, in Sheihupura.
On the same day, the state-run APP reported that Prime Minister Shehbaz Sharif had ordered an investigation into the incident, ordering authorities to "ensure justice".
Commenting on the article today, the PTI leader said the driver of the car that crashed his vehicle was given a double pass from his car but "did not pass on intentionally".
"When he saw that there were cars around us with no way out, he hit us indiscriminately in his car and our car overturned – on his side, leaving us thinking we were dead," said Gill. that the events following the accident have played out as a "film script".
"Today, a man came forward wearing a T-shirt and tracksuit … You have a certain mustache style, you will see the same kind of Gullu Butt all the time," he said, referring to Shahid Aziz, a famous stick – a man in charge of vandalizing property during a riot in Lahore Town in 2014 . Apparently referring to the suspect involved in the accident, Gill continued, "His face, which I have seen in the media, is similar to that of a suspect. [Model Town's] Gullu Butt. "
"It's the same story," he said, as he continued to predict that "he would see that his documents would be completed and he would be granted bail in about a month".
PTI claimed that this was a "new acquisition cycle [people] martyred "which was limited by those who could not suppress Imran's voice.
"This conspiracy and foreign policy is aware that only Imran Khan and a few of his colleagues have spoken out and if they are not, the matter will be put in jeopardy," Gill said, adding that the event, however, would not happen. I fell asleep ".
The Pakistani nation, he said, has risen and will not accept an "imposed government".
He said he respected them all biradarisincluding his own, the Punjab, even though Jutts was facing a difficult time.
"But we have been taught to stay honest and it is my promise to you that … I will [keep standing with Imran] and I will not go back an inch for the value of my life, "added Gill." Do whatever you want … next time you can shoot me. "
Gill also said that while in the US, he saw Imran being praised by people not only of Pakistani descent but also of India and Bangladesh.
Responding to a question about "founding" which was one of the reasons why the PTI government was ousted, he said "it is imperative that we respect our army" which is "our glory".
He also asked the media to choose between "only rude and those who later cut their throats".
Gill then gave examples of many journalists, saying that "their chance today" "to speak … tomorrow will be yours".
FIRE
During this time, the first information report (FIR) of the incident was registered at the Kaleke Mandi police station in Hafizabad under Section 324 (attempted murder), 427 (corruption causing damage of $ 50) and 279 (driving or taking a public road) of the Penal Code of Pakistan.
FIR, its available copy by Parhlo.comwas registered in the name of Jabir Ali, who was one of Gill's traveling companions when the last car crashed.
Jabir told FIR that Naqi Khan was driving the car of Shahbaz, who was sitting in the front passenger seat, while he and another person, Izhar, were sitting in the back seat.
"A speeding car hit our car near the Sukheki Interchange with intent to kill us and fled," said Jabir, adding that their car had overturned and overturned.
He said he and three others in the car were seriously injured. "After that, the others took us out of the car," said Jabir, adding that they had been taken to hospital after first aid.
The plaintiff claims that the accident was indeed "a conspiracy to kill us, especially Shahbaz Gill".
He called for action against those who plan and carry out this "conspiracy".
"They should be exposed," he added.
Earlier, a senior police officer quoted Gill as saying that a white Toyota Yaris hit the PTI leader's car in the back and then fled.
According to It was morningThe officer said motorway police were able to obtain a suspected car record (according to the registration number shared by Gill) from the Punjab Excise and Revenue Department indicating that its owner was from the Bahawalnagar district while its color was blue.