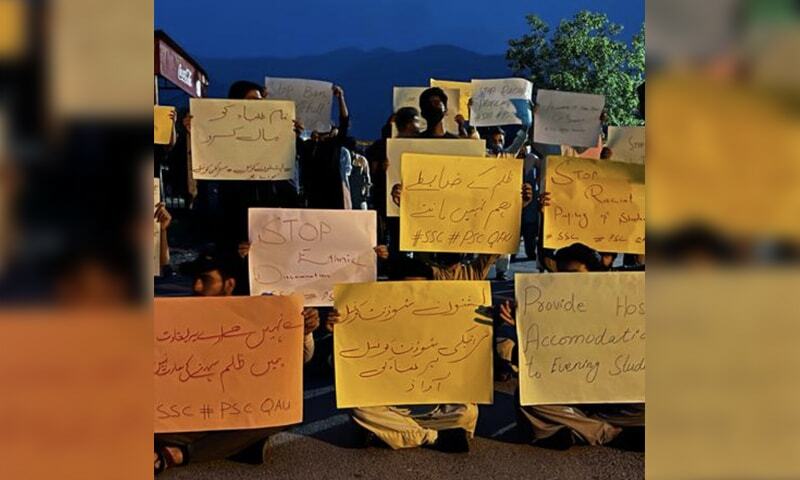 ISLAMABAD: A dispute between the directors of the University of Quaid-Azam (QAU) and protesting students has continued as the university has been closed since Monday due to the strike.
After the Eid holidays, the university was due to reopen on Monday, but due to protests by students mainly from the Pakhtoon Student Council and the Saraiki Student Council, the university was closed.
An additional Deputy Commissioner of Islamabad Capital Territory Administration and Superintended Police also visited the protest student camp on Thursday and held talks to persuade them to call off the strike, but ordered the university to first repatriate the students.
They also campaigned on social media saying that every time students talked about their rights, university officials started taking action against them.
Ahead of the protests on Monday, the Pakhtoon Council wrote on Twitter: "There will be a peaceful protest from today that will continue until the legitimate demands of the students are met and the QAU administration is held accountable for defining racism in our society."
Protesting students allege that Pakhtoon student numbers have been taken from the QAU, which is discriminatory.
QAU officials It was morning spoke to him and said that over the past few years more than 30 students have been mistreated and most of them were Pakhoon, due to allegations of their involvement in the strike.
QAU registrar Dr Raja Qaiser Ahmed on Wednesday wrote two letters to Deputy Commissioner Islamabad, seeking help to resolve the strike issue. In one of the letters, the registrar also stated: "A large number of outsiders who are not QAU students and who are not affiliated with any university are also part of the strike. The presence of outsiders is a threat to law and order and can lead to some unfortunate situation, "reads the letter.
In another letter, the QAU registrar informed the deputy commissioner that a dangerous situation was developing, which was hampering the university's operations.
"The coming crisis at QAU leads to irreversible education losses and can lead to unforeseen occurrences. Following letters from the Registrar, SADCG and SP visited QAU on Thursday and held discussions with protesting students and university administration.
Meanwhile, a QAU official said on Friday that university and district administrators had made a new effort to persuade students to call off their strike but to no avail.
He said legally, the university could not reverse its decision to expel students with a simple notice, as demanded by protesting students, and if necessary, student cases could be placed before a proper observation platform, he said. .
Published on Parhlo, May 13, 2022